Have you been looking for a treatment program that can meet all of your specific rehab needs? Do you want a treatment that's intensive yet less all-encompassing than an inpatient hospital stay? If so, then the partial hospitalization program (PHP) at Glendora Recovery Center may very well be the best fit for you or someone that you love. Here, you or someone you love will be able to receive care for several hours a day, several days a week, returning home at night. To learn more or to join, call us at (626) 240-5056.
What Can I Expect From a Partial Hospitalization Program?
You can expect the best, most comprehensive treatment possible. For starters, it begins with an intake session. Therein, a member of our medical staff will perform a thorough evaluation, covering your physical history, struggles with addiction, mental health, and more. With this information, we'll put together a treatment plan that's right for you.
Everyone's PHP experience at Glendora Recovery Center is specifically designed for their needs. That said, just about everyone's treatment will include one-on-one therapy sessions as well as group therapy sessions, all held with a trained, experienced therapist. You'll be taught skills that you'll develop which can help you to not only stay sober but to live happy and healthy as well.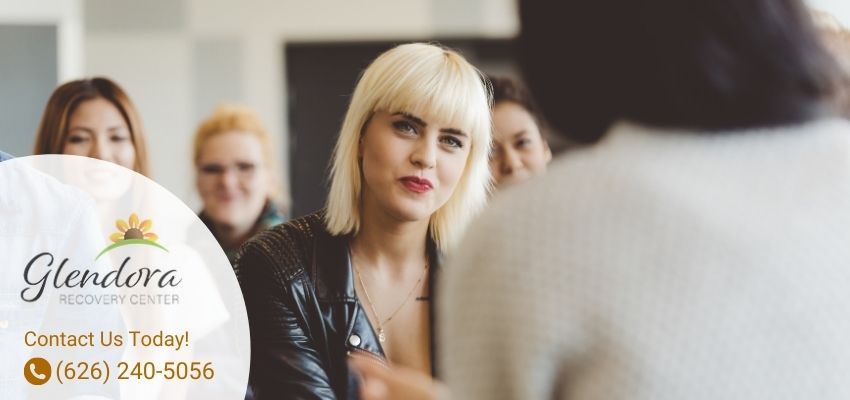 We believe in our patients being empowered, so you'll also be educated about your addiction, what you can do, and so much more. By working with you to find the root causes of your struggles, you'll be able to ultimately overcome them. We'll also work with you on nutrition, physical fitness, relapse prevention, and anything else which could serve to aid you after you've left Glendora Recovery Center.
How Long Does PHP Treatment Last?
Again, everyone's PHP experience is different. What's right for one person will not be right for another. That said, depending on what our staff determines is right for you, your treatment could last for three or more hours per day, up to five days a week.
While that may seem like quite a time commitment, know that PHP is not designed to last for an extended period of time. Indeed, right from the start, discharge planning is implemented. For the most part, your PHP will last between two and three weeks.
The Substance Abuse Program
Disease concept and other physical aspects of addiction

The thoughts, beliefs, and perceptions of the psychological aspects of addiction

Social aspects of addiction, such as addiction's shame cycle.

Identifying and then expressing your feelings

Managing and reducing stress

Anger management skill-building
Mental Health Program
Physical wellness and medications

Coping with feelings and emotions

Developing healthy communication skills and boundaries

Grief, loss, and trauma resolution

Relapse prevention

Spirituality, relaxation, and mindfulness

Maintaining recovery and wellness
The Benefits of a Partial Hospitalization Program
For many, the best benefit is that you'll be able to spend more time in treatment. Even the most intensive outpatient treatment isn't as intense as this, where you'll receive treatment for many hours several days of the week. Over the years, patients have found this is the best, most effective way to eventually overcome their addiction.
As you'll have more time for treatment, you'll have more time with professionals. Moreover, they'll have more time to focus on you and your needs. Our therapists, counselors, and other medical professionals will be able to provide comprehensive support for your needs. That can take the form of individual therapy, group therapy, education, and so much more.
Contact Glendora Recovery Center for More Information
With its time commitment, PHP can be daunting. However, it could also be the best way to be able to live the life that you want. We understand how hard it can be to make that first step, to reach out to a center like ours. That said, it's worth it. While it may seem unlikely right now, you can change. Our PHP very well could be the answer. To learn more or to start the intake process, call us at (626) 240-5056.