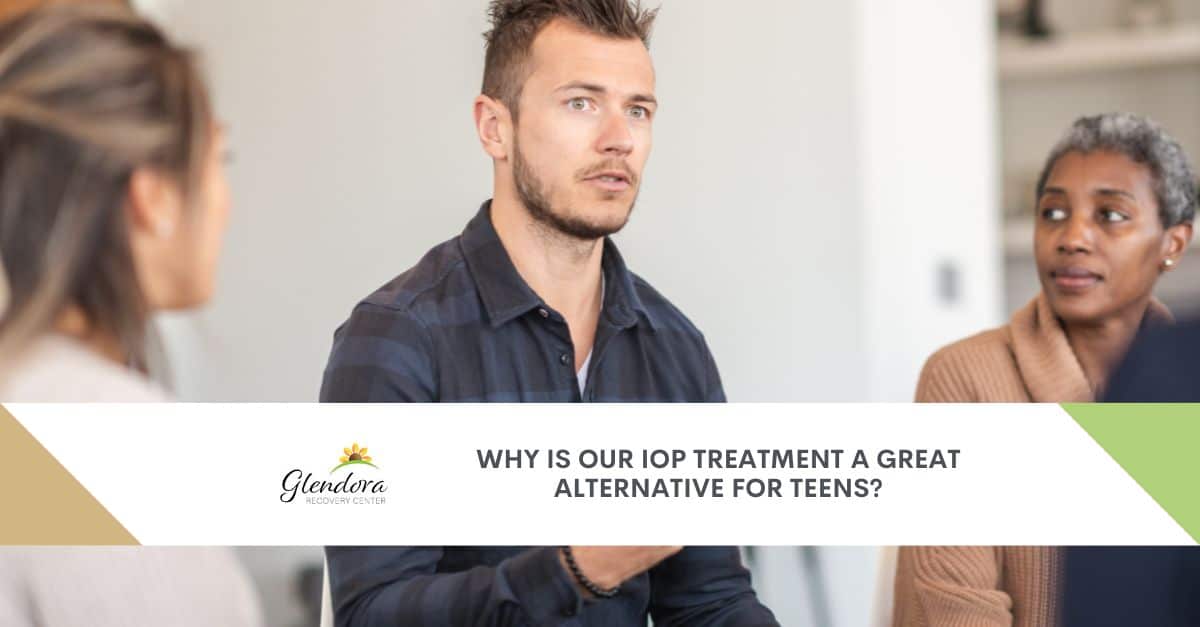 An intensive outpatient program (IOP) for teens is a treatment method that allows patients to live at home and dedicate a significant portion of each day to overcoming their addiction. When a patient is ready to make the necessary changes in their life and is provided with the appropriate resources, this mode of treatment can be highly effective. Many people find it extremely important to keep up with their regular responsibilities while also attending addiction treatment sessions. This allows them to keep some semblance of normalcy in their lives during what is undoubtedly a very difficult period. Striking a healthy equilibrium is difficult, but we encourage our patients at the Glendora Recovery Center to do just that.
Understanding The Difference Between Outpatient and Inpatient Care
When receiving inpatient care, you'll be required to relocate to the clinic. The duration of these initiatives is typically short. They offer highly specialized care and constant medical observation. People with severe addictions, a toxic home environment, severe drug withdrawal symptoms, or other physical or medical conditions that require close treatment or monitoring can benefit from these facilities. Beginning recovery from addiction in the highly structured setting of an inpatient program is often recommended.
It is possible to live at home while receiving treatment for substance abuse at an outpatient facility. Those with a structured family life can benefit from this. Also, their mental and physical well-being should be sufficient that round-the-clock supervision is unnecessary. People who are struggling with drug abuse can get many of the same services at an outpatient facility as they would at an inpatient facility.
Who Should Attend IOP Treatment?
There is no one size fits all, especially when it comes to substance abuse treatment and addiction problems. Substance abuse affects people of all genders, socioeconomic backgrounds, religions, and ages. This means that while some people may do better in a residential setting, others may do better in an intensive outpatient program (IOP).
Individuals with a home environment that encourages sobriety and with a supportive family and friends are strong candidates for IOP treatment. Teens that are also motivated by personal initiative to get well also help to make the recovery process easier.
IOP Helps Members of the Family
Addiction, much like a disease, separates its victims from society. IOP teens at Glendora Recovery Center begin repairing the relationships that their addiction has strained or damaged. This process involves telling family and friends about substance abuse disorders and working with them to come up with plans that will help the person get better for good.
Family members closest to someone struggling with addiction often need help themselves. The family members of patients can receive various types of assistance from the outpatient programs. Giving a client's family and friends tools to help with long-term recovery strengthens their role as a support system for staying sober.
Improve Self-Esteem Through Our IOP Program
Recovery from substance abuse can boost self-esteem through intensive outpatient treatment. Confidence building is an integral part of the process of addiction recovery. Throughout this program you will gain knowledge on how to do things such as finding a new job or starting a completely new line of work. When you learn to cope with different triggers, you gain invaluable life skills. You'll also learn to trust your own judgment more.
Addiction robs people of these coping mechanisms, making them unable to handle the pressures of daily life. At our IOP program for teens, we'll help you find good ways to deal with your problems.
Highly Confidential
Guilt and embarrassment are major roadblocks on the path to addiction recovery. Individuals often avoid getting the help they need due to the fact that they fear telling their employers they will be absent for an extended period of time while undergoing addiction treatment. The patient must be open to the therapeutic effects of compassion and empathy for the approach to be successful. You can always find a solution that works for you.
Fortunately, clients can keep their confidentiality during IOP sessions. Since these programs are flexible, no one will have to know (unless you decide to tell them personally) that you are participating in an addiction treatment program. In doing so, it removes a major barrier to care and makes it possible for people to seek assistance without feeling guilty or embarrassed.
Glendora's Intensive Outpatient Addiction Program for Addiction
If you or a loved one are looking for an addiction recovery program that does not necessarily require extensive stays in facilities or a full-time commitment while still being effective, then the best approach for you would be the one that we provide. At Glendora Recovery Center, our staff is ready to help people who are struggling with addiction make changes to their lives so they can get treatment.
You can give us a call at (626) 240-5056 or use the contact form on our website if you would like more information about our intensive outpatient program or our treatment center in general. If you are interested in either of these options, please do not hesitate to get in touch with us.