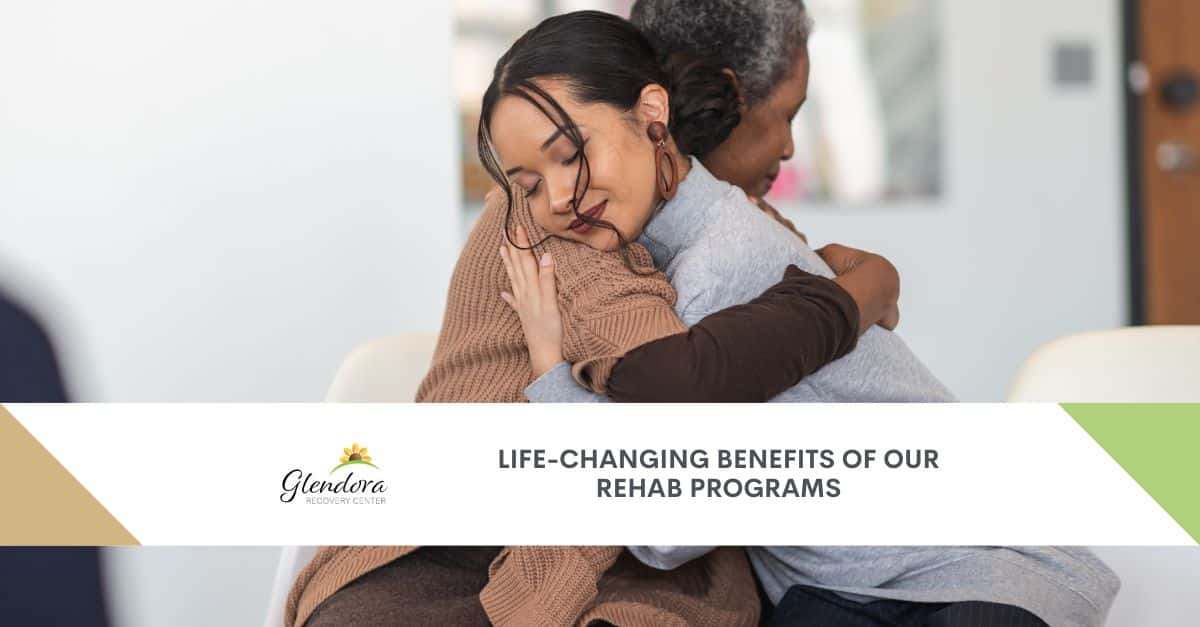 Drug rehab offers a number of benefits to those struggling with addiction and substance abuse, whether they are young, old, or both. There is no one-size-fits-all approach to addiction and substance abuse. Having a range of treatment options available is crucial because what works for one person might not work for another. However, regardless of the initial approach to recovery, going through a drug rehab program will yield benefits that will last for your entire life. At Glendora Recovery Center, we focus on specialized treatment programs with a meaningful impact.
It Encourages Close, Wholesome Relationships With Others
Peer support is crucial for recovery and treatment. Those who have never struggled with addiction can't fully comprehend what someone in recovery goes through, and they might not know how to help a friend or loved one. People in recovery share a sense of solidarity and sympathy for each other because they have all been through the same things.
Peers in recovery support one another through group therapy, workshops, social events, and recreation to stay motivated, responsible, and most importantly, honest. The formation of long-lasting, solid relationships is encouraged by long-term rehabilitation. Once treatment is over, these connections can be extremely beneficial.
Investigate the Root Cause of the Issue
There are numerous factors that contribute to drug addiction, so it is important that you understand what motivates you to use drugs. Is it a method for stress relief? Do drugs make you emotionally numb so that you won't have to endure physical or emotional suffering? Do drugs help people avoid responsibility, win others' approval, or fit in with a group? Peeling back the layers of your behavior is crucial if you want to understand the motivations behind your drug use.
Counselors at our rehab center are trained to help you look into these deeper problems, make sense of them, and come up with new ways to deal with stress that don't involve drugs.
Construct new routines and habits
Drug users frequently exhibit poor self-control and self-care behaviors. The process of setting and achieving goals is a crucial component of self-care for someone in recovery. Whether they are in recovery or not, the majority of people lack the skills necessary to set objectives that are likely to be met. Since they didn't go into goal-setting with the right frame of mind, they start out with good intentions but eventually give up. People lose their willpower over time because they keep trying to break bad habits and failing, so many just give up.
A Healthier Lifestyle
Rehabilitation can assist people in leading healthier lifestyles, which is one of its most significant advantages. The reason for this is that rehab instructs patients on how to avoid using drugs and alcohol, maintain a healthy lifestyle, and manage stress once the treatment plan is over.
During rehabilitation, people acquire a fresh, optimistic perspective on life. These are lessons that can save a person's life and aid in long-term sobriety. Additionally, this mindset change enables them to live successful lives and contribute to society.
Higher Self-Esteem
Due to their perception of their inability to regain control of their lives, addicts frequently experience a decline in self-esteem. Individuals who are dependent on substances frequently attempt to stop using them on their own without success. This cycle of brief abstinence followed by relapse can make people feel frustrated and powerless. Long-term addiction treatment helps people learn how to stay sober, and seeing results encourages them to keep working on their recovery and not go back to using.
The longer an addict refrains from using, the more confident they become in their capacity to resist cravings and triggers. They will leave treatment with the knowledge that they can stay sober and that they are capable of carrying out productive tasks without the use of drugs or alcohol. This accomplishment boosts optimism and confidence for the future.
A Luxury Rehab Center
For those struggling with addiction, an addiction recovery facility is crucial to their recovery. But it's too bad that a lot of people don't know about the services or benefits of these centers.
Various services are provided by addiction recovery facilities to aid people in overcoming their addiction. Detoxification, one-on-one and group therapy, medication management, and aftercare preparation are just a few of the services that different facilities might provide.
Emphasize Long-Term Sobriety
The ultimate objective is to permanently overcome addiction. While individualized care is essential to ensuring that each patient gets the most out of our drug rehab facility, we believe that our combination of programs is where we truly succeed. Our treatment plan includes a continuing care program, individual counseling, and other programs to help people get used to a new way of life.
Call Us Right Away!
To learn more about our various types of programs, call Glendora Recovery Center at (626) 263-5543. Our professionals will be much more pleased to assist you and get you going.