Benzodiazepines are among the most commonly prescribed drugs in the world, but they have a high rate of misuse, dependency, and deadly adverse effects from overdose and withdrawal. Fortunately, there are drug rehab centers and detox options available for those who become dependent on benzodiazepines, but those who discontinue use without medical assistance risk serious complications. Understanding how benzodiazepines work can help you and your loved ones avoid the many negative consequences that can result from abusing this addictive medication.
Understanding Benzodiazepine Addiction
Because of the high risk of dependence, benzos are typically only prescribed for short-term use of 1 to 2 weeks. When people stop taking benzos abruptly after using them for more than 3 to 4 weeks, they are more likely to experience withdrawal symptoms.
What Are the Symptoms of Benzodiazepine Addiction?
Benzodiazepines have different effects on different people, depending on a variety of factors such as how long they have taken benzodiazepines, the dose taken, whether it is combined with other drugs, and the individual characteristics of the person. Some of the most common signs of addiction are the following:
Spending a significant amount of time obtaining, using, or recovering from the effects

Needing to use more to achieve the same effect, as well as the presence of cravings, difficulties stopping/reducing use

People who are experiencing withdrawal symptoms also begin to show social problems, including relationship issues, financial problems, effects on study or work, and legal problems
Dependency Is Frequently Unintentional.
Physicians are well-intentioned but sometimes may inappropriately prescribe benzodiazepines to patients without first considering individual risk factors or warning of long-term consequences. Additionally, patients oftentimes can get confused with the dosage and treatment schedule, as well as start taking benzodiazepines without questioning its use. Meanwhile, an estimated 15 to 44 percent of benzodiazepine users' bodies adapt to the drug, resulting in physical dependence. Before the problem is discovered and rehab for benzodiazepine addiction is needed, it may be necessary to express concern to a caring medical professional and in the least recommendable option, miss a dose and experience some of benzo withdrawal symptoms.
Addiction Management
Benzo addiction does not simply go away. As long as symptoms are not addressed in a comprehensive manner, they tend to worsen. That is why it is critical for families to intervene when they notice benzo abuse in someone they care about. The information provided by families, as well as the solutions they outline, could mean the world to someone in need. That person could achieve long-term sobriety with assistance.
What Happens in Benzodiazepine Addiction Treatment?
People with a benzodiazepine addiction can recover safely from benzo use disorder in drug and alcohol rehabilitation centers. Patients undergoing drug detox can receive cognitive behavioral therapy to help them identify why they became addicted to benzos in the first place. We also offer several inpatient and outpatient options.
Individual and group counseling provided in our rehab center teaches people how to manage and avoid common triggers that lead to substance abuse, while cognitive-behavioral therapy can help them change negative thoughts and behaviors that are driving their addiction.
In Treatment Rehab Benefits
During medical detox, inpatient programs can provide monitoring. This means that symptoms can be identified and treated before they grow, spread, and worsen. This round-the-clock care is difficult for families to provide, but it is a standard of care in an inpatient facility.
Inpatient programs are supervised by trained and qualified personnel to conduct counseling and coaching sessions. Throughout the inpatient sessions, people learn to recognize their benzo use triggers, and once completed, they will be able to return to their communities with the skills they need to stay sober for good.
Looking for Help
Finding a drug rehab center will be necessary for those suffering from benzodiazepine addiction, but it will not always be simple. You must be aware of what to look for because the success of your recovery journey depends a lot on whether or not a specific program adapts to your unique needs and circumstances. Rehabilitation, unlike healing a broken arm or having a tonsillectomy, is not an easy process. Fortunately, there is a wide variety of treatments available and you can always consult with our experts at Glendora Recovery Center should you have any questions.
Specialized Aftercare
After completing any of our treatment programs at Glendora Recovery Center, we believe in providing patients with an ongoing support system to help them avoid relapse. We will develop an individual aftercare plan to assist you in continuing your recovery outside of our walls. Our aftercare program is an additional level of care that monitors your progress through sponsorships and the 12-step program. In order to help prevent relapse, we also provide weekly counseling sessions and the option of random drug testing.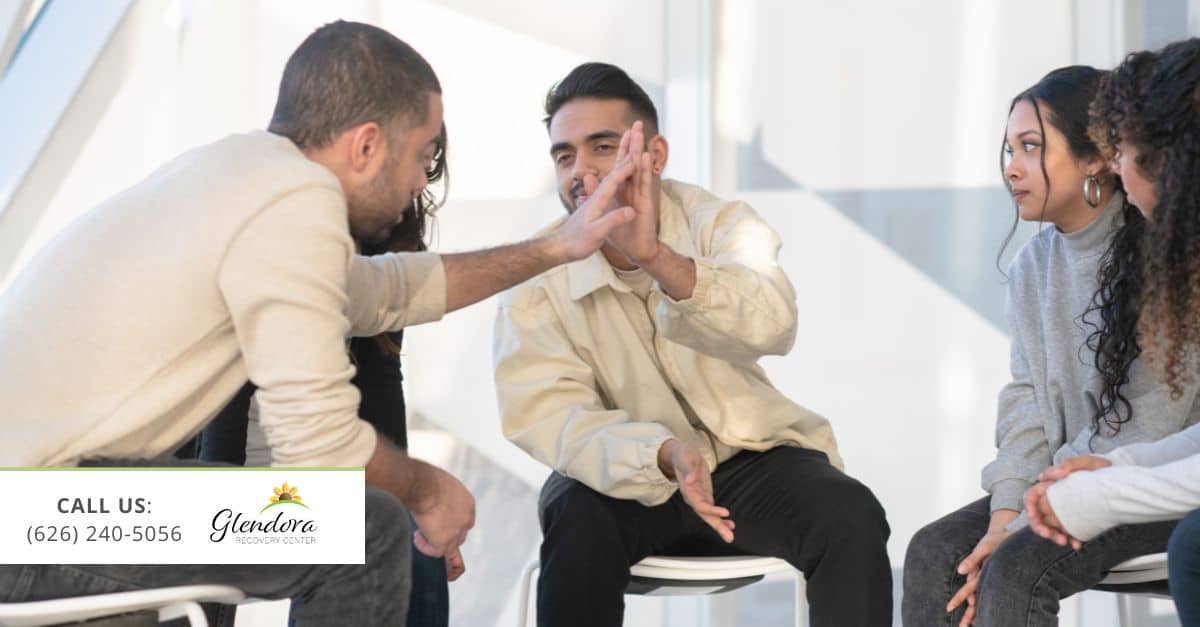 Contact Glendora Recovery and Get Recovery Today
We have the best approach for you or a loved one if you are looking for an effective drug rehab center for benzodiazepine addiction that can provide the right environment for your substance abuse recovery journey. Our team at Glendora Recovery Center is ready to assist those struggling with addiction in locating the most appropriate treatment for their needs.
If you have any questions about our substance abuse rehabilitation programs or our treatment center in general, please contact us at (626) 240-5056 or via the contact form on our website.